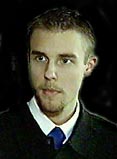 Namn: Conny
A.K.A.: compa
Age: 1977
Status: Vice President of carmaniacs.net
Drivers license: Car and Bike
Mail: compa@carmaniacs.net

Intrests: Right now it's the bike that draws most of Connys attention.
A new licence for bike, and a new (hrm...) bike...
is the kind of things that has to be taken advantage of.
The car will have to wait for rain or winter untill Compa gives it any attention.

What else? Conny is the ultimate brainstormer, for the site and in the garage.
Numerous cars has passed Connys hands...
If we skip his parents cars, he started with a Toyota Corolla -77
It passed away quite soon, and the replacer was a Volvo 340 -86
After the Volvo, he got a new Toyota. a Camry -87 this time.
The Camry made Conny to decide "No more Japanese crap!",
Therefor he got a Audi 100 -92 wich was followed by a VW Passat 1,8t -98.
It was soon replaced by a VW Passat V5 Variant -00.

In the beginning of the summer 2001, he got his Suzuki-bike...