At the last event for the year 2004, I managed to run 11,53-189kmh.
Jonas Holmqvist had his camera in my car to capture a complete run.
The clip contains everything from burnout to a while after I pass the finnishline.
I felt the pass was a good one, and after slowing down some I couldnt help it yelling it out loud...
"Det måste ha gått fort altså..." means something like "That has got to've ben IT!" and I was right wasnt I?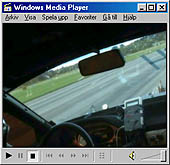 hotwok_1153-189kmh_incam_by_joho.wmv 27,0 Mb
The clip is about 2 minutes and 20 seconds
and compressed with DivX




Filmed and edited by Jonas Holmqvist at www.joho45.se






---

Back to the film index
---
All the stuff found on carmaniacs.net is copyright by carmaniacs.net 2000-2001
Any questions should be sent to webmaster@carmaniacs.net