During the winter and spring 2012/2013 a filmteam from Motorkanalen have followed
team Hot Wok Racing in the garage. From when we first got the chassis home
to when we moulded a fibre glass body of the 2011 Nissan Juke.

Its like a documentary with lots of interviews with everyone participating in the team.
Unfortunally its all in Swedish, and there is no text available at this point.
Hope you enjou it anyway.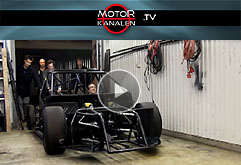 Link to all parts of the documentary.


---

Back
All the stuff found on carmaniacs.net is copyright by carmaniacs.net
Any questions should be sent to webmaster@carmaniacs.net