@



Gecko Cup, Borsk, Poland 19 July 2009

The hole adventure actually started in November 2006, as we showed our car at Svenska Bilsportmässan.
We shared exibition area with an Audi S4 from Poland, read more about it here.
The Polish guys and girls were not that good at english and kept themselves a bit for themselves.
That and due to the fact that I got so much attention for my car resulted in that I never got the chanse to know any of them.
They remembered my car though, 'cos when we ran 9,91 - 248kmh in late 2008 a guy named Arek sent me an invitation
for us to come to Poland and race the week after.
Arek was the owner and driver of the Audi S4. =)

With only a couple of days from desicion to the race in Poland we had to decline.
There was simply not enough time for the team or the car to get ready that quick.
We agreed to come to Poland 2009 instead. We didnt get the car running for their first,
but yet their second race in Borsk, near Gdansk,
and that is the race I am going to tell you about now.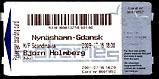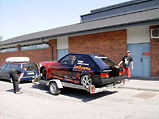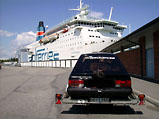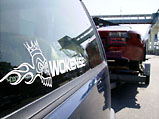 For us this was a major event and adventure, so bookings of hotel, ferry and trailer
were made, ready and set more than a month in advance just to make sure.
We boked the trailer at Bålstasläpet. We used their trailer when we went to Pite late 2007.
They were good priced and we knew the car would fit. We have had some previous trouble fitting the car on some trailers since the car is so wide. It is wider than most fullsize american cars from the 60ies.
Monday before departure a coincidence made me double check the booking of the trailer, and that was just luck I did. Bålstasläpet had closed for summer holiday! After some research I got hold of the owners, but they pretty much told me to piss off. -It is not possible you had a reservation, were on holiday.
-But I made the reservation a month ago!
-Not our problem, find someware else, were not interested.
What?
The solution was Järfälla Släpvagnsservice
They had closed for summer holiday too, but since I called them a couple of days (read two)
in advance there was no problems to find a guy who could get to work and let me hire one.
-Now thats what I call top end service!

We picked up the trailer Thursday morning.
The trailer was perhaps not as top end as their service,
the hydralics were broken and it looked pretty rough, but it rolled and was wide enough.
We rebuild our ramps from our Ford Transit and loaded the car.
Andersson let us use his Volvo 855 wich we stuffed full of tools
before we left for Nynäshamn were we met up Emil Larsson aka Fjällkon and Daniel Broman aka Fräsarn.

The ferry trip was pretty cool, concerning the weather.
The cabin were maby not too fancy so Fräsarn chose to sleep under some stairs elswere on the ferry.
As soon as he got back to the cabin in the morning they started to call for him in the speaker system.
-Daniel Broman, to the reception!
He forgot his wallet, passport and keys under the stairs. Well done. =)

Friday lunch we arrived to Gdansk harbor. Emil who had ben in Gdansk before were chosen to guide us to the hotel.
After numerous laps aorund the same blocks in the harbour area we gave up and looked at the map instead.
As we aproached Gdansk city all of a sudden Emil went,
-Here it is. Turn left HERE!
-Excuse me? In to the Polish bronx?
He convinced me to turn left anyway, but I were seriously doubtful.
I had seen pictures of the hotel on the internet and it was made of green and white glass,
not black bricks like all buildings were where we went...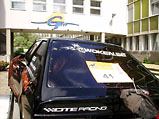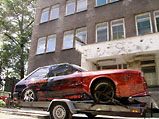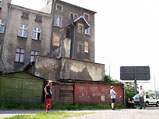 The hotel was actually as nice as in the pictures, but it was put in between a closed hospital
and a black brick building with windows closed with concrete and owened by wild cats.
My spontain feeling was that no man goes outside after 20.00 in theese neigbourhoods.
Luckily my primary sense were prooven to be wrong. City center were only some 10 minutes walk away,
and the hoods were not at all that bad once we got used to them.

Friday evening Emilia who were our designated guide and some of her friends
took us to a club in the old town that aparently were their favorit spot.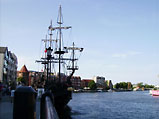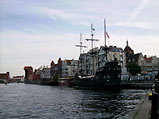 I can understand why.
Drinks were sheap, girls were nice and every once and again there were strippers on the bar desk. =)
Not scertain when or even if they were going to close for the night, but around 04.00 we went back to the hotel.
Saturday was the hottest day ever. We had 36 degrees Celcius outside the hotel.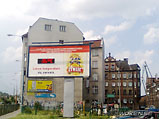 Me and Emil went and bought bathing shorts, then we all went to Sopot,
wich is the nearest town with fantastic beaches and hundreds of clubs and restaurants.
It was only some 20-25 minutes away with a death-wish taxidriver.
As we got to Sopot it started to rain heavily and temperature fell to 21 degrees in a matter of minutes,
and suddenly we were not at all interested in the beach.
Good thing there were so many clubs everyware. =)


Sunday 19 july, Raceday.
05:30 the clock started ringing.
I belive Emil and Fräsarn had just got back to the hotel from Sopot by then, but I managed to wake them up
so we could get to the track. Nalle and Andersson had taken it slighter easyer with the partying on saturday night so they were in alot better shape. I dont know since I hit the sack around 23.00.
I aimed for road 7 wich I found at once, then I kept running for an hour or so before we bought a road map and realized we were on road 7 but in the wrong direction half way to Russia. Arek sent me an SMS telling there was heavy rain on the track so we could stay in the hotel until lunch.
I wish. =)
After some major road works and wrong turns we finally got to the track. 10.30.
It was still raining now and then so the race hadnt started yet.
Instead I went around, talked to folks, had some Polish sosages and enjoyed.
Everyone were really happy to see us and the car wich was great.
Everyone by the way. In Sweden hardly even the competitors would show up with such bad weather,
here there were loads of crowds and teams. =)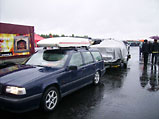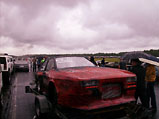 By 14.00 it fealt like the track would never get a chanse to dry,
and as a nice guesture and to let people see what we had brought
we started up the car, still on the trailer.
People came from everyware and there were suddenly hundreds of people surrounding the car.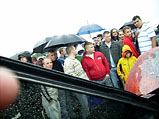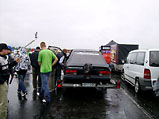 As I started the launch controle people loved it!
After that I had a full time job to talk to people, signing autografs and distributing flyers.
Unfortunally there were more rain ahead...

At 15.30 we were almost ready to give up.
The race was supposed to end at 17 or 18.00 hours, and since the track was still wet we could'nt figure out how we should get a chance to race any. Arek asked us to unload the car and do atleast one run.
-Please? Not full power, just show the crowd anything.
Soon after that the Polish cars and bikes started to race,
even though the track were wet and even as it came more rain.
-Hmm, did anyone bring the raintyres? =)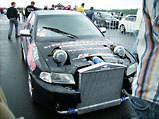 This was pretty far from what we had expected I can tell you. =)
Burnouts in the pit area and in the lineup was done by almost all drivers and was fully accepted,
if anyone would do a burnout on the return line, they got thumbs UP by the crew.
The return line, by the way, was actually ON the track, protected only by a skinny fence.
Feel the difference between a Swedish track? =)

Eventually it stopped raining and the track dryed up rather quick since cars and bikes were racing on it.
We ran our first run around 18.00. There was no bleachbox since everyone did their burnouts in the lineup so we had to get some water by ourselves, since I can not do a propper burnout since my prostock-cluch wont alow the tyres to slip otherwise.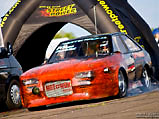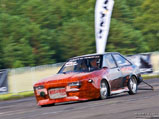 We didnt get enough water so the burnout was a complete disaster.
No good temperature in the tyres on an unprepped track didnt exactly make me hope for a new track record.
Third gears syncro broke too, and I belive I ran 11,66 or so.
Hard to tell exactly, because I missed to get the time slip.
One were suppose to get the slip at the end of the return line,
just that I didnt understand it was on the actual track.
At the end of the track I found something that would had ben used as return line on a Swedish race...
...just that here it was not used at all, by no one. =)
My alternative return line ended up crossing grass, dirt, plastic barriers
and finnaly passing thrue the spectactors parking and then getting back to the pit.
No one got mad at me for it, but it was definitly not right.
Unfortunally there was no easy way of getting the timeslip by foot.
The timeslip printer was taken care of by the grid girls and they were protected by the race crew,
who carried black military clothing, bulletproof vests, cuffs and bars.
No idea to make a scene out of that I figured. =)

For the show I ran one more run, but since I knew third gear was broken I shifted directly to fourth gear from second.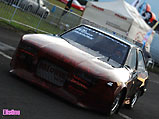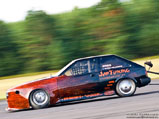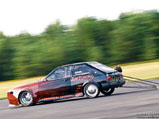 Thought I might check the 60 foot and 201m time?
201m wasnt measured.
60ft was not all that bad anyway, 1,63. Clock stopped at 12,5-118kmh.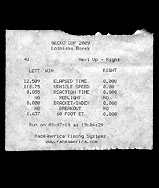 Reaction time was miserable 0,85 seconds.
It apears as if the time starts to tick when the starter pushes the button, not when the green lights up.
On top of that the starter got so scared when I went on the launch controle in my first run,
he forgot to push. Instead he started waving and doing odd stuff
while I was shooting half meter fire balls being as prepared as can ever be.
When I let go of the launch and let the engine rev down to see what was going on,
the starter gave me thumbs up and pushed the start button.
-WHAT?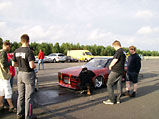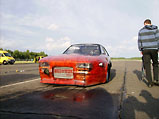 In our second round we chose left lane so that we would not set the starters pants on fire,
but he started waving and behaving strange anyway. This time I was more prepared for his odd ways though.
Kind of hard to concentrate on the race with a starter working in such strange ways.
Perhaps it would have ben better to have a computer to do his job
and simply generate a unique time between stage and start for every run?

We ran a third and last run right before 20.00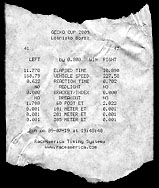 60-foot 1,70 and 11,77-168kmh @ 402m. Pretty ok without third gear I think?
I belive no one at the scene understood that anyway, and since it was most probably our last run for the day I thought maby I should do a little atempt to burnout on the return line? Hell, the crowd went nuts!
-In a good way I might add.
In Sweden I would have ben banned for life for a stunt like that. =)

Pretty much right after I came back to the pit after the third round
the race was closed and it was time for pricing sceremony.
Hardly any idea to go there I thought, but we went to wach as a way of saying thanks for the day.
Belive I was suprised when they shouted out my name in the speaker system!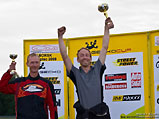 I got so suprised I didnt even know if I won or came third.
On second place there were already a guy, and statisticly the next person entering the bench would be the one winning...
-However, in shock I took the third step, and people were screaming in Polish, so I stepped up to the top of the stairs.
No people were screeming even more, but no one seemed to have any complains. =)
In Sweden, most teams have left before the pricing sceremony, but here there were even hundreds of spectactors left, and they really made it to a show.
After 8 hours of rain on a race in Sweden, not even the crew would have stayed,
but here things are different. Verry different. So cool! =)



Apart from the big cup, that accidentaly had the wrong year printed
there were prize money enough to cover all my costs during the trip so far and more.
Not bad at all! =)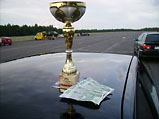 After collecting the prize we tryed to load the car to the trailer and go back to the hotel,
but it was harder done than sayed, since everyone wanted to have a closer look, take pictures of it.
We left the track at the same time as the crew closed it.
-At least somethings never change. =)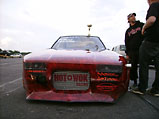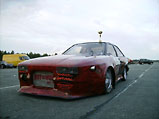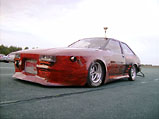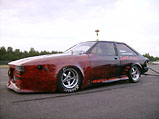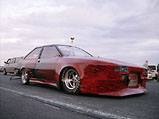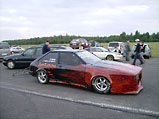 As we came back to the hotel the secure parking had closed,
so we had to park everything outside the hotel lobby instead.
If it had ben our first night in Poland I would have slept in the car,
but now we were too tired to care, and besides the area were not at all that bad.

On monday afternoon as we were uploading ourselves in the hotel to go to city center and celebrate
we saw a coverage from the event on TVN-Turbo in the hotel tv.
They even ended the coverage showing MY CAR! =)
Link to there coverage with the clip: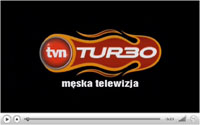 After we had seen that we all put our HotWok T-shirts on and starting celebrating.
Emilia and her friends took us to a club called Absinth.
Andersson showed us how manu drinks a person can simply insert in the shortest amount of time,
wich resulted in me draging him back to the hotel an hour later... =)
I was to drive the car on to the ferry the next day so it suited me fine to get home fairly early.

Tuesday morning Fräsarn didnt want to go back to Sweden.
We checked him in at Scandic in the mittle of center before we went to the ferry.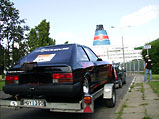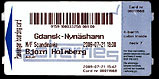 All of us would have liked to stay a couple of days more,
cos we all really had a good time but some had work waiting
and we had to get the car and ourselves ready for Bilsport Action Meet and Kjula III two weeks later.


I especialy want to thank Arek and Emilia, SSS.org.pl,
Järfälla Släpvagnsservice
and the team that helped making this the most unforgettable race 2009, by far!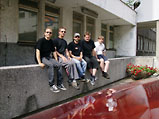 NOW The film from our trip is ready for download!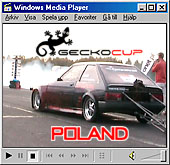 link to download page