@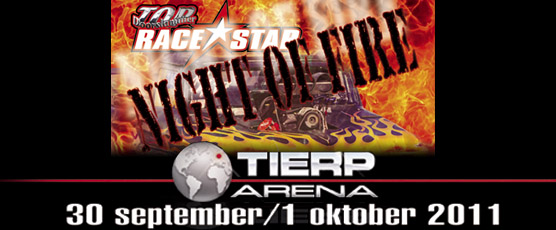 Last race of the season is usually the "Slight return" at Kjula raceway in Eskilstuna
in mid september. Not that we missed it this year, but it was simply not the last race.
This year the last race was called Night of Fire and took place in last September-first October
at brand new built Tierp Arena. It is fail to call it a track. It is an Arena of wich kind
has never ben seen on this continent. It was built during the winter 2010/2011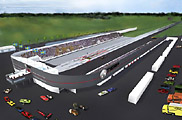 The stands holds 20.000 persons. They are 200m long and 15m high on both sides of the track.
The track is cast concrete at site in one piece wich offers perfect surface for rubber and trackbite.
The races are going towards north so there will never be problems with sun in your eyes.
In only this year most classes have ran new European track records at once, This really sets
a new standard for dragracing in Europe. From now on we will talk about dragracing before
or after Tierp Arena was built.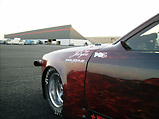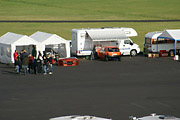 One would think there is a large risk of bad weather arranging a race this late in the summer.
Question is actually if it still is summer at all. Most people would refer October as autumn.
Anyhow, the weather was supreme all weekend!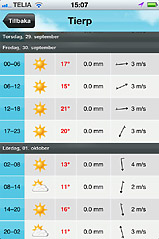 At first we didnt even plan to go to this race at all. There were a race at the arena the weekend before
this wich was much cheaper to run. It was a Euro/Japs race so it would have ben perfect for us but
unfortunally I got a really strange problem inside the gearbox after the last race at Kjula three
weeks earlier. We did all we could to solve it. We even got an additional spare gearbox around midnight
the night before but the problem were in one of the linkages that I made adjustable, that I hadnt adjusted
correctly. Typical. For this race we were all set anyhow.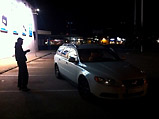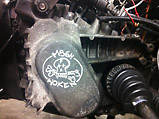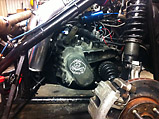 As you can see on the dates this was a friday to saturday race. Since we all have regular jobs mon-fri
we couldnt get to the track until friday morning. Our class were first out so we missed that round.
It didnt matter really cos the track were too cold and slippery for any records to be set, or even
to do a fair qualifying run. After all classes had run once the track started to build up a good traction.
Now we were more than ready.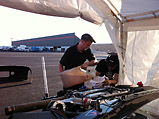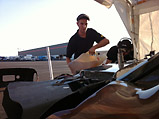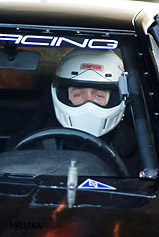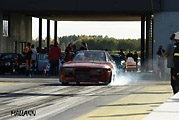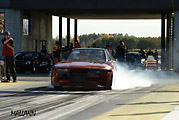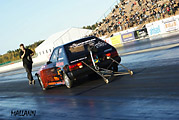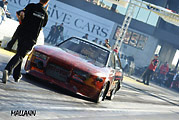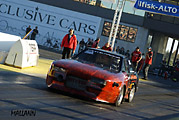 We got quite heavy tyre shakes wich resulted in a poor 60ft. At the previous race we had problems
not being able to get low boost in first gear. Even if we set it to 14 psi we got 30 in 1st gear
causing the car to do an extra burnout from the start line. Now we had three different ways that we
could use in case it was needed. The first one and also the most reasonable way turned out to be good
enough. That was with an Innovate Turbosystems MSBC Boost controller with dual selenoids.
Every time I put the car or engine in a dyno the MSBC turns out to be too effective and precise
wich interfears with the dynos aimed rpm/second increasement causing boost going up and down like a jojo.
I get talked into using the Autronic boost controller every time and thats I havent used the MSBC
until now this year... But I promise, this is the last time. I will use this boost controller forever.

This time I got the 20PSI I set the controller to. That was too low for this track, but now we knew it worked
so it was worth one qualifying run to test that.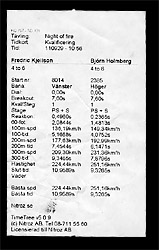 After the first round we went straight to the stands to wach Top Doorslammer.
Not knowing that the gearbox housing had cracked due to the heavy tyre shakes.
We didnt discover that until we got back to the pit after TD had driven...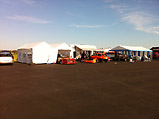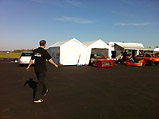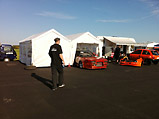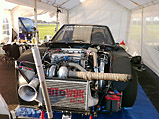 We had three complete sets of spare gear sets but no housing.
They are so large and messy to bring, and they usually never breakes...
Gah, what an idiot I am.
After considering our options me and Filip went to the scrapers and got a new compete gearbox.
It was a faster solution than geting one from home where I had several housings. Unfortunally
we missed the third qualifying round with ten minutes and it got too dark for a fourth so
9,32-250kmh was our qualifying time wich made us numer six in the eight car ladder out of 12 cars.

Saturday didnt offer any qualifying runs. It started with eliminations at once.
I was to meet Andreas Bäckström in a BMW E21. He was No3 qualifyer with 8,45-230kmh
so I must admit I fealt pretty sure to loose. On the other hand, anything can happen.
And even if I would be kicked out of the ladder at once, all kicked out cars were welcome
to get into a run test n tune lane behind the arena so the we wouldn be forced to pack up
and go home just like that.
-If we would loose that is...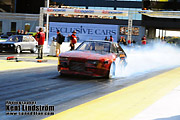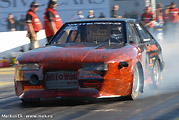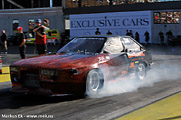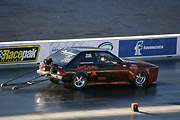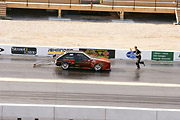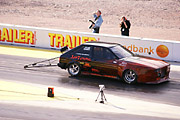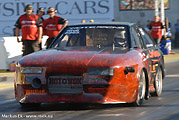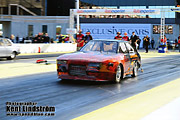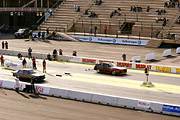 Now we had increased the boost a bit and made some small adjustments on the cluch. We didnt get to race
until right after lunch so now the track hade woken up too. I left the line at 0,14sec like I should.
Andreas on his end did a disasterous start and didnt get his car to moove until 0,92 seconds after the
tree turned green. I passed the finnish line first after 9,02-250kmh and there was just no chanse for Andreas
to get pass me even if he did a great 8,52-280kmh!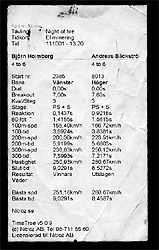 9,02? Didnt we say an eight sec run were hardly possible just weeks ago?
Starts to feel unreal close now!

To avoud any sad surprizes we went thrue everything on the car really carefully just to make sure
everything were still in one piece. All seemed to be in order so we finally dared to have that lunch.
My mom takes a break in the pit while my sister and her boyfriends son are taking a walk.
Filip is taking a closer look at Kalle Uhr´s Opel Corsa that he ran three 9 sec passes with during
fridays qualifying. Unfortunally he were not fast enough to get a spot in the ladder and his car
was not technically inspected and allowed to run faster than 10,0. He tryed to get it inspected at the track,
but it turned out he had built his chassie in dube dimensions fit for circle.
Thats a tiny bit too small for Drag racing so he was not even allowed to race in test n tune...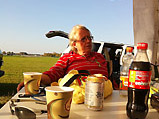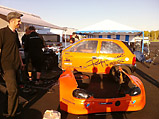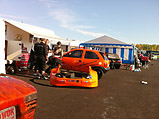 We had just drank up our coffie as it was time for next round. We were suppose to to meet
Jens Gustavsson with a Volvo B20 equipped Vega but he had whater in his oil so he left WO.
With a solo in the semi finals and 9,02 in the first run we could not miss this oportunity of
track time, so we increased the boost a bit more and gave it a shot.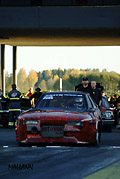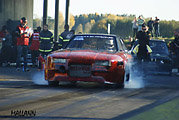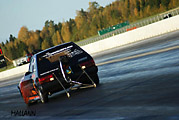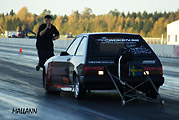 Unfortunally a small safety detail in the ECU had ben missed out and the ECU gave me red flag as soon as
boost passed 47PSI. On top of that I accidentally ran in to stage without being fully prepared causing
a misserable reacion time of 0,32 seconds. *Booo*.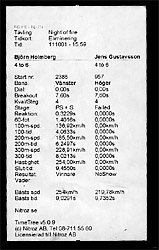 Obviously all got better with more boost, so a removal of all safety limits in the ECU, increase of boost
to all possible maximum ever and a new set of spark plugs would do it one would think? All possible max in
this case was 60PSI, but we never get more than 50-51...
We had hardly folded the shute until we were asked to get back to the start.
Pretty wiered. We waited almost four hours until our first run and now they give us 20 minutes between the runs?
We refused and demanded our minimum 40 minutes between the runs wich we got. It turned out the test n tune cars
had ben given too many runs at the beginning of the day the crew feared they wouldnt be able to run all finals
if they didnt do something about it. It was not the same crew that runs the European championship races and
thats probably why there were some confusing descitions made sometimes, but it all ended up fine with the arrangement.

Here we are behind the arena. Waiting for the finals, as ready as ever.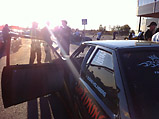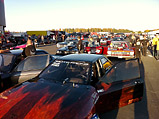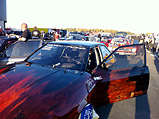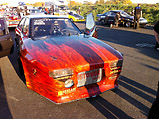 A friend of mine in the test n tune line. He runs SC (8,90 breakout)
but set a new personal best 8,26 wich put him out of the competition...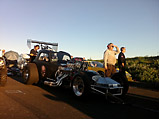 In the finals I was to meed Jim Bergström with a grey BMW E30. He was No4 qualifyer running 8,79-253kmh.
I knew Jim is usually not a master of reaction time but his car is very quick and consequent.
-If I dont kill him in reaction time, Im screwed...
...on the other hand, I cant be much less than second.
Second is not so bad, is it? Runner up?
-Hell no! I have to win this. Be fastest.
I am the fastest. I have to be. Just be quick on the tree and you win this.
Just do it. Do it!
Eeeeasy now. Think slow...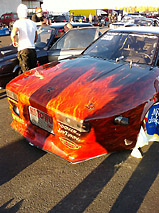 Thats pretty much what went thrue my mind as I rolled in to the gates wich leads to the track,
to run the finals of the class 4to6 at Tierp Arena. This could be historical...
...or fiasco? No lets make it historical. Just leave the line first and let him chase you.
-Not the other way around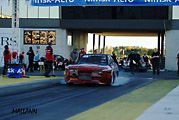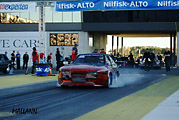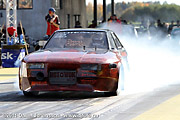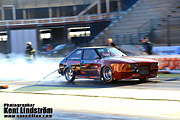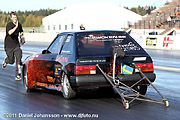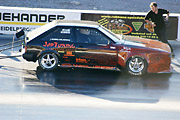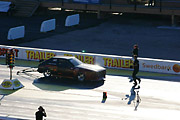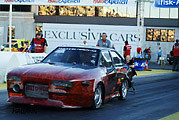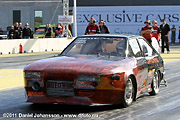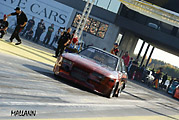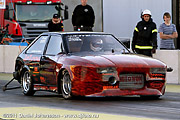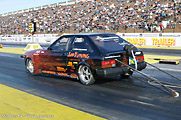 -It got hirstorical!
First 8 sec FWD in Europe!!!
I left the line at 0,09sec. Jim had 0,31 sec reaction time so I pretty much had him there,
but I cant say it was an interesting fight. Down to thousands of seconds.
I had 0,22 sec quicker reaction time but at 60ft he was only 0,006 sec behind me.
At 201m he had passed me and I was 0,04 sec behind him but as I went into third gear
my car went nuts and I passed him right before finnish line and crossed it 0,03 sec before he did.
Victory was mine!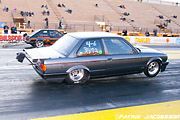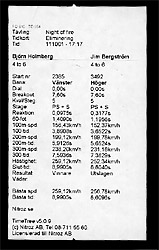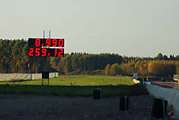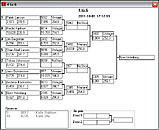 An odd detail with such a state of the art arena is that there is no information regarding times or anything
aimed to the end of the track so after I won the finals the security crew came to me and asked how it was going.
How's it going? I replyed. I just won the finals, so I'd say its going pretty awsome! =)
Still not knowing the time I drove the car back to the arena to park in front of the stands
like one should do after running finals. When Filip handed me the timeslip I hardly belived what I saw.
It was like a dream you didnt even know you had, turned into reality!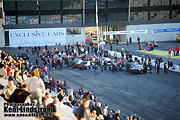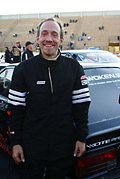 After a while the price cermony took place by the tree at the track.
Right after that there were crackle fest with 20 cars or so reving, launching, spitting fire balls
and then there were a massive fireworks wich lasted a least 20 minutes. Massive!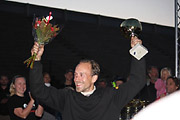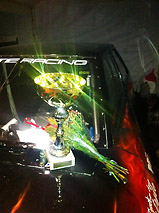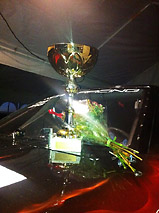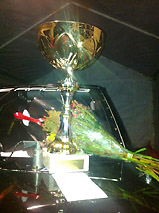 After winning the race, getting champaign all over me, recieving the large cup
it was incredibly nice to be able to just walk to the team/crew hous and get a real shower.
That is things you can only get on a purpose built arena like this. Just like the fact that
there were only real toilets, drinking whater taps here and there, electricity just about everyware.
Fantastic!

After shower we had some improvized dinner, as we never could imagine getting so far in the ladder
our original plan was to go home in the afternoon we didnt bring enough food...
...but anyhow. After all that there were a great celebration party in a barn a km from the track
where we had some good beers and laughs. The beers were very very expensive but that didnt matter.
This were a party like there was no tomorrow! =)

Sunday morning, or maybe not really morning but early afternoon anyway, we packed up and left the arena.
By that time we were starving so we stopped at a local pizzeria in Tierp. That was a bad call 'cos
Therese in the team got really ill from her pizza, so next time we will probably bring more food to the track. =)

This weekend was by far the coolest and best thing we have ever done!
Time to clean the rear window of the car to make place for better results soon I think.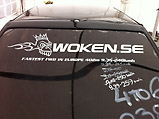 The magazine Bilsport congratulated us both on their website and in the paper: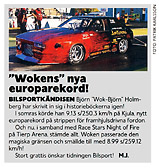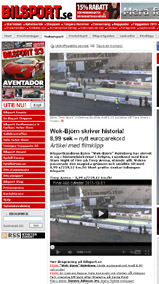 Click link below to see a couple of nice films from the event:


---



I would especially like to thank my team, Björn Nordman, Therese Bodell, Filip Säfsten, Martin Elmerstad and Daniel Andersson,
but also my sponsors Japtuning, DTE Racing, IDG-Tools, ScaryPaint, CRS-Motorrenovering och J-style
Without your help and support none of this had ben possible to do!
I have recieved help and support from a large number of people and companies beyond those mentioned,
but I do not dare to count all up here risking of missing one or two,
but you knw who you are and you know I thank you from the bottom of my heart. All of you.


I would also like to honor my father Kjell Holmberg who passed away three weeks prior this event.
I know you are always with me and I will never forget all the joys and things you tought me.
You never came to see me in the garage or at the tracks before because of your illnes, but this time I know you were with me in the car.
Love you and miss you daddy!



Photos on this page: Markus Ek, Daniel Johansson, Malin "Mallan" Ulfves, Kent Lindström, Patrik Jacobsson, Sami "WolfMan" Holm,
and some taken by myselfe.