@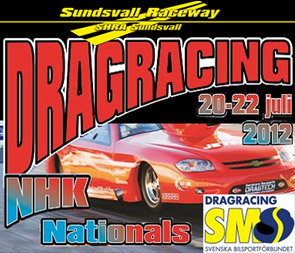 After the successful dyno at PBZ two weeks earlier we were very keen to try the car on a track.
We found a race in Sundsvall 370km north of Stockholm that suited us well.
It was a race in the Swedish dragrace championship, and that's more or less
a guarantee the track will be in it's best possible condition.
Normally we run in a 4to6 cylinder class or FWD class where available but in the Swedish championship
there is no such class. After looking at the different classes we came to the conclution that
Super Comp probably was the most suitable for out car. Super Comp has a fixed index/breakout (8,99)
so the risk of breaking out fealt pretty small. Most probably I would get kicked out of the ladder
in my first run, but I could run all the qualifyig runs and I could get the track time we all needed.

When competing in a Swedish champion status class a HANS system is required, so I bought one the week
before the race. With a HANS system I also needed a HANS aprooved helmet, wich I could not afford.
Just like magic WIRA IT Resurs AB went in and sponsored me with a brand new Bandit helmet from Simpson.
BIG BIG thanks for that.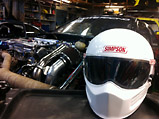 The weather forecast looked really promising even though the tabloids shouted out
that this was the coldest and rainiest July in 85 years...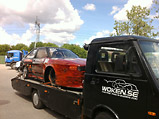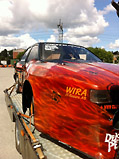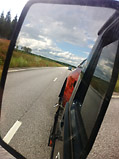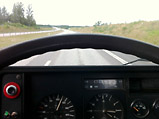 On our way to the track we closed in on Andreas Sjödins team a couple of times.
I layed my truck in their slip stream, but after telling them so in facebook their driver floored it and they disapeared...

I held the pedal to the metal all the way from Stockholm to Sundsvall in my truck and eventually even we reached the track,
even though the last bit nearly killed it with first gear, peak rpm and the temp gauge showing the needle beyond the scale...
As we set up the pit I took a couple of photos. It wasnt midnight sun, but it sure were not dark around midnight.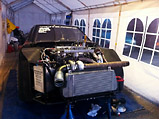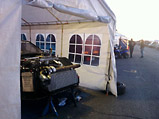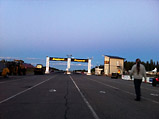 Breakfast in the pit before heading off to the drivers meeting at the start line.
Sun was really heating up the track, so that part was good.
Unfortunally the track did not at all look like a well prepped track should.
It was black to the color, but there were no rubber at all and it was not as slick as I had hoped for.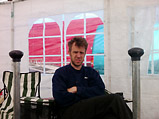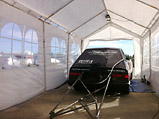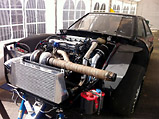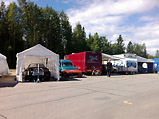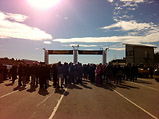 Here we are in the lineup with our class. No we are not in the wrong line.
In Super Comp, cars and dragsters are competing side by side on the same conditions:
Be quick like a reptile off the line and run as close to 8,90 as you can but not faster.
For me that meant, do whatever you can to be first away and run as fast as you can. And keep your fingers crossed.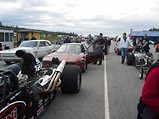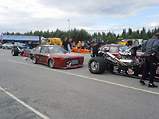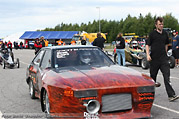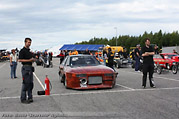 We were one man short in the team during fridays qualifycations,
but we managed to do what we needed. We even had time to brake one gearbox, repair it and have a hot dog
during the lunch brake, so we didnt miss any rounds.
Instead of a class guide telling us when to get ready and when to go to the line up,
such info was transmitted on FM radio. It worked really well!

Here is a nice burnout in third gear.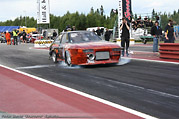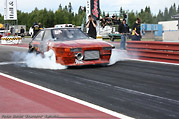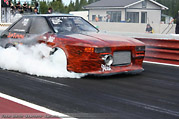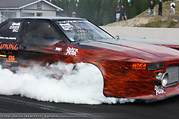 There were a slight wind from behind so I didnt get rid of the smoke.
I didnt see anything at all so I had to whait a short while before I could get back to the start.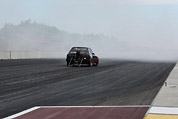 Here you can see what I meant with the track missing rubber.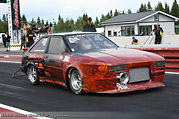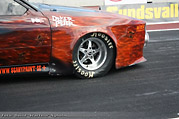 The track got better during the day, but right lane were still like a joke and left lane were just...
...bad.
The track were in such poor shape the class Top Doorslammer didnt even dare to run at all on friday.
We remooved as much boost as we could and retarded the cluch until there was nothing left,
and still we could not leave the line without smoking tyres...

That was pretty much not what we had hoped for, so the times were not at all representive,
but the engine seemed to work more than well with topspeeds over 250kmh (155mph) in every run
(exept for the one where I broke second gear) on only slightly over 44PSI.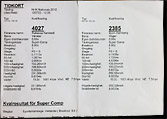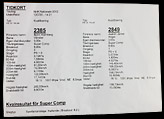 All seemed to work fine all day if not minding the lack of traction and times...
...until the fourth run.
Just as I passed finnishline, I pulled he shout and as it hooked the car I let go off the throttle
it all just went BANG!
All warning lights screamed shut off, so I shut off everything emidietly.
Next thing I know there was thick smoke everywhare,
I stopped the car as quick as I could and got out of it.
The rescue team emptied four bottles of Co2 under the front before it was lifted.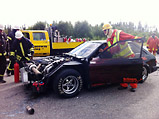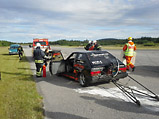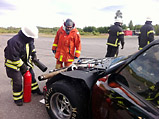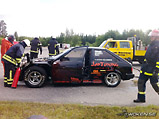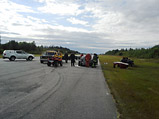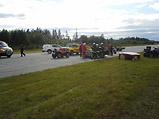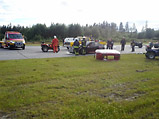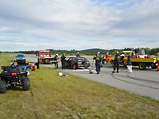 When it had stopped smoking I tryed to see what was going on.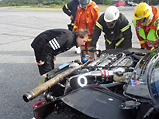 This was pretty much what I saw: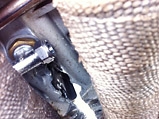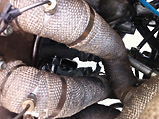 Filip came to see what was going on and if possible tow me back to the pit,
but since the engine were completely blown I had to go with the tow truck with absorbent plates under.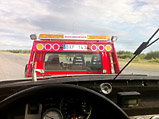 Back in the pit we took down the daiper-plates and...
...realized there were just not any to do.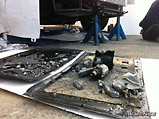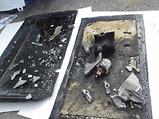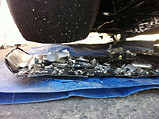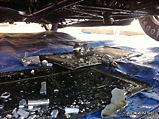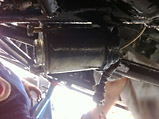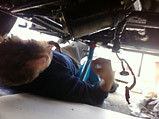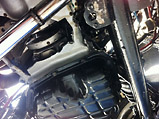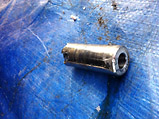 Saturday morning we packed up our pit and loaded the car.
Had a look on our friends in Top Doorslammer as they helplessly tryed to find traction for a while
before we left off for home.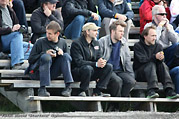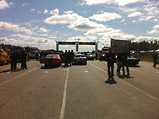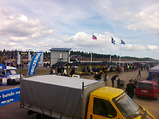 Some 10-20km south of Sundsvall the sweet fjuff from the truck changed into a deafening loud braaaah!
The exhaust system had collapsed before the first silencer and it was not possible to go on.
We went back to Sundsvall for some parts, so we could fix it on a parking lot outside a pizzeria.
-Had to break everytime we are 6h away from home?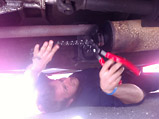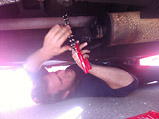 Sunday in the garage, I removed the pieces that was left of the engine and took it apart.
Lots of people have lots of simple or advanced ideas of what happened, how and why.
Lets just agree it is very very broken.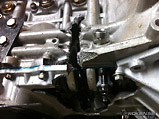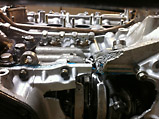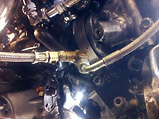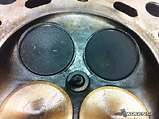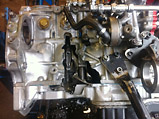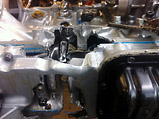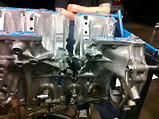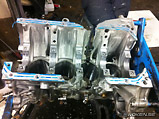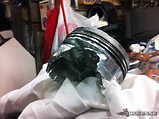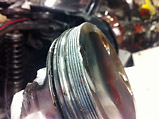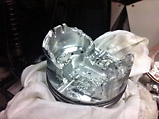 Now there will be a big challange to see if it is even possible, timewise and costwise to make a new engine.
Any normal person would most probably find the task as impossible and turn to the next chapter,
and if I were an acountant I would probably just shoot myselfe, but as the retard I am
I will find this somewhat interesting.
Maby it just cant be done since I do not have an extra enging at all.
I have to make one now.
Next race is in three weeks.

Here is a film coverage of the race and destruction: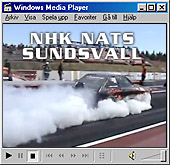 Photo: woken.se and David "Startern" Nyholm.