@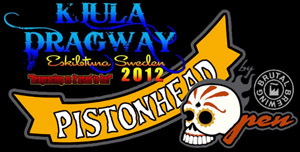 Pistonhead open #3 11-12 August 2012

After completely destroying the engine in Sundsvall three weeks earlier
it fealt like a victory just making it to this event at all.

The hole car was an oil dripping mess, so I put it up on stands
to be able to clean it on all ends.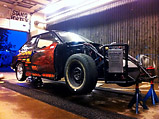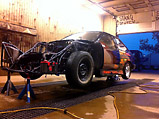 Stefan at Japtuning was on vacation, so his mother had to go to the company and
collect som performance parts for me. Eagle rods, CP pistons and bearings.
I thought the wrist pins looked a bit tiny, so I switched to a barely used set of JE pins.
They had the exact same measurements so I wouldnt be surprized if they were made in the same factory.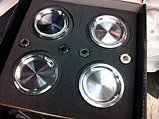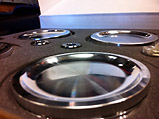 Stefan didnt have any Darton dry sleeves in stock, so I placed an order at Mazworx in the US.
Less than 48hours later DHL came knocking at my door. Impressive! =)

Then all I had to do was to find someone that had time and possibillity to resleeve a block for me.
Cheap or free and most importantly really quick was all I asked for.
Stefan Nigell at Nigell.com usually sponsors me with machine work
but at the moment he just could not find it possible to do this job. At least not quick enough.
Instead I got help from Fredrik Persson at Blenco in Kungsńngen.
He had planned some vacation, barbaques, crusings and things like that, but I had a different agenda for him.
Luckily he wasnt too hard to talk into doing the job.
The old block was done by the owner of Blenco, Hasse Nilstein. He was out of town but since the old one was
done at his speedshop I knew the machinery and skills were there.

Fredrik got a couple of days vacation as I prepared the block with new threads, oil return line and so on.
head studs holes were changed into 1/2" UNC instead of the stock m11 and all engine mount bolt holes
got helicoil threads as a precaution. TTR-Jompa helped me getting a stress bore plate and some new copper head gaskets.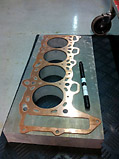 Then it was time to bore away the stock liners.
Since I didnt have any better to do I helped out in the shop with all the dirty work.
Getting pizzas, making coffe, waching machines work until they auto stop and so on.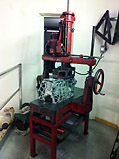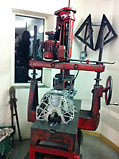 After a long long time a new sound showed up in the bore mashine.
It was the first stock liner that came out.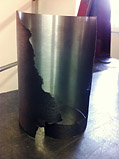 The Darton sleeves have heels that we wanted to match as good as possible in the block.
To do so we put it up in a milling mashine with a digital front end to do the final touch.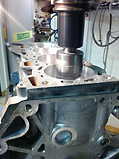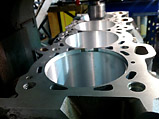 When I was watching the boring bore mashine, Fredrik made O-ring slots the deck face of the sleeves.
When we started milling the block I put the sleeves in the fridge...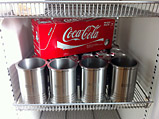 When the block was milled we gave it some temperature to make the sleeve installation a bit easier.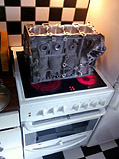 When the sleeves were installed and the temperature had went down in all parts we put it back in the
bore mashine for a quick drill. The sleeves were 85mm and my new pistons wanted 86,5 so one run per cylinder
was enough. Then the stress plate were aplicated and fredrik honed the cylinders to final measurement.

At 23.00 on saturday evening I went back to my garage with the new block.
A quick wash to get rid of all honong oil and bore chips, then I filed the piston rings
and checked all clearances before I installed the pistons/rods/crank/o-rings.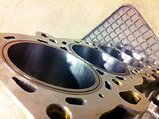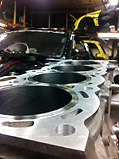 Around 05.00 on Sunday morning the bottom end were more or less complete.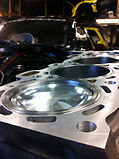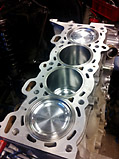 Sunday after I woke up I went on with all extensions on the bottom end like oil pump and cooling system.
In the evening Filip came by and we put the complete bottom end into the car.
Here Filip is seriously concerned of how we shall manage to get the car raceready in five days...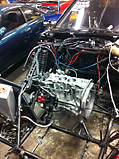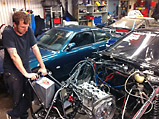 Monday morning I had to go back to my work at the printshop as my vacation was over.
After work I had to go directly to the garage every evening to make it happen.
Monday evening we checked the clutch and put on the gearbox just to be prepared.
We also glowed and finalized a new copper head gasket. You might think they are perfect as
they come water jet cut, but the idiot that cad drawed them (me) has obviously not passed the class,
so therfore they will need some filing and carving to fit perfectly.

Tusday evening fredrik came to the garage with the head. He had put in a couple of new valves and seats,
so all I had to do was to grind in the remaining valves and adjust the valve clearances. It took me all evening.
Wensday evening we put the head on and put on all things around it.
Thursday we started up the engine with a new crank trigger.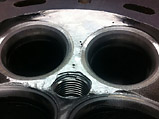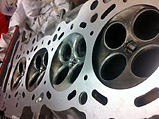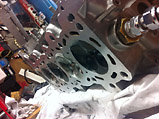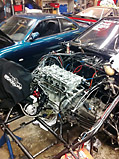 Since the old engine had signs of detonation in third cylinder
we thought a new more precise trigger would be a good thing.
It didnt work at all at first but after some adjustments it did.

Friday after I got from work, first thing on the agenda was to remove the cams and retorque the head.
A quick oil change, pack and load the car and get to the track as soon as possible.
We got to Kjula Dragway around 01.00 and we got the pit in order around 03.00.
Saturday morning we started off to the scruteneering and missed our class first qualifying run.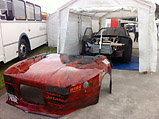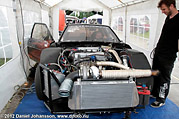 As we were waiting for next run we tested the launch controle, but that didnt work at all.
The new trigger did not work at all. Some adjustments on it and it worked. Good enough.
As we entered the bleech box, the speaker Johan JZ Zetterholm, went bananas and started to scream
how happy he was to see us at the track after the giant breakdown three weeks earlier.
I reved up the engine, put on the launch controle and dropped the clutch...
...but instead of a nice burnout the engine just died.
Tryed three times, but no. Something with the new trigger did not work in reality.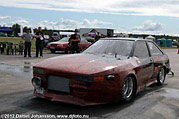 Back in the pit we switched back to the trigger in the cas.
This is not a precise point to pick up the signal, but we have done so since forever.
We know it works and we only had one more chanse to qualify left.
This time it worked very well indeed.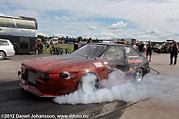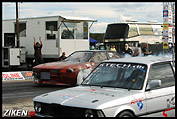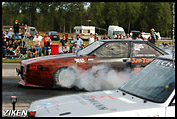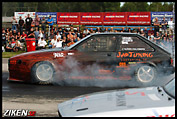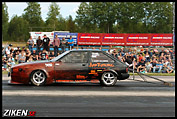 Thinking of all the work and money spent the previous weeks I wanted to be nice to the engine
in the first pass so a 36psi run with massively spinning tyres ended up in a 10,37...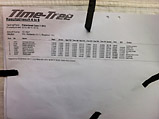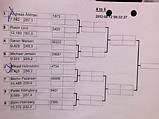 Not even close to its potential but all was well and no oil dripping anyware.
I guess we needed to lower the power in first gear but we didnt have time or guts to try and adjust too much
since we were in the ladder and really need any points we can get in the cup.

We were to run against Petter with the blue Escort. His primary goal was to run 8,59 but only ran 8,64.
We were not the only ones with problems though. Robin Lind with the red Corsa hadnt got all parts
for his transbreak to work and Andreas ┼hlmans fine Volvo Amason broke the engine...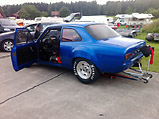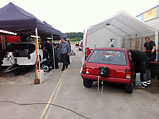 Sunday morning. Rise and shine.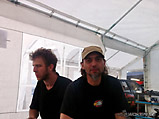 Petter did run very fast times but he was not a quick starter.
Time to go to the track and see if a good ET can beat a good RT.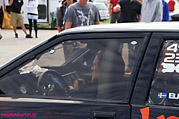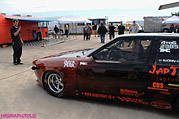 I won the first challange. The longest burnout. That was easy.
I also set the best RT but that did not help since I ran so slow Petter was first man over the finnish line.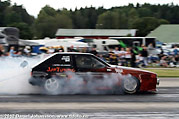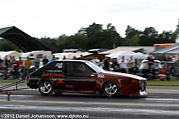 It seems as we have way too much power in first gear since my car just spinns up in smoke,
and hits the rev limit all the way and when I shift to second gear there is just no power at all.

Even if that sucks quite hard we are satisfyed with the weekend.
Mostly the engine seems to be working fine even if its just a bit too brutal for first gear.
Everything is also still in one piece! Not one thing broken.
Since Andreas ┼hlman broke his engine he is still in second place in the cup,
but he got a better qualifying time and for that he got more points than us this time too...
He is definitly closing in and whos going to win the series is an open case for the final round.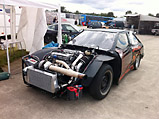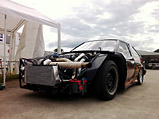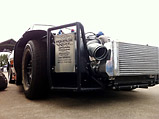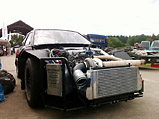 Until next and final round Robin will probably be dangerous too with a working transbreake
and engine tuning. He is not a threat for the title but we can expect him to be quick next run.
The Corsa has a 2litres Methanol Opel engine with a GM Automatic transmission.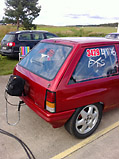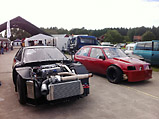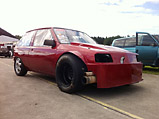 On our way home from the event it can be hard to stay awake...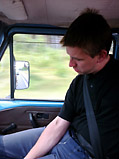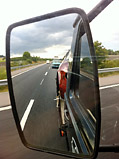 Film from this event:



Photo: woken.se and, Malin "Mallan" Ulfves
Lars Sikhammar
Daniel Johansson